Automotive Shock Absorb er/Damper Test Rig
Vehicle Dynamics Lab in Indore will complement the world class test tracks planned there. The Lab will give R&D facilities to the automotive sector by simulating real road conditions in test lab scenario. Vehicle Dynamics Lab will assist component and vehicle manufacturers in developing component and vehicle structural designs that are assessed using the latest techniques. The lab will provide test facilities for evaluation of vehicle components, automotive sub-assembly and complete vehicle for performance and durability.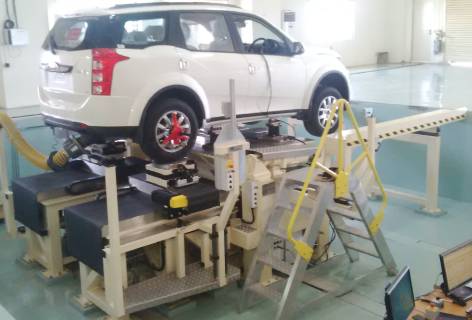 The Automotive Shock Absorber/ Damper Test Rig is capable of performance testing of all kinds of Automotive dampers. following are the Automotive Shock Absorber/ Damper Test Rig specifications :
Load cell capacity : +- 25kN

Test Velocity : Upto 4.0 m/s

Actuator Stroke : 250 mm

Test Space/ Max Damper Length : 1560 mm

Frequency Range : 100 Hz

Side Load Rating : 9 kN
NATRAX has created a state of art facility for Vehicle Dynamics Testing of Vehicles and suspension components. The Vehicle Dynamics Lab is commissioned with an advance version of K&C Test Rig, Steering Test Rig, Damper Test Rig and Elastomer Test Rig for Various Suspension, Steering, Tyre, and Ride & Handling parameters of a vehicle for assessment of ride and handling characteristics. All the testing machines are imported from UK( AB Dynamics ) and US( MTS ).
Expert Engineers

Cost Effective
Modern Workshop

Creative Thinking
Load cell capacity : +- 25kN
Test Velocity : Upto 4.0 m/s
Actuator Stroke : 250 mm
Test Space/ Max Damper Length : 1560 mm
Frequency Range : 100 Hz
Side Load Rating : 9 kN
Performance testing of Shock obsorbers.
Stand alone Axial Loading Frame with Side load fixture.
Jounce Rubber Testing