K & C Test Rig ( Spmm Machine )
NATRIP Single axle K&C Test Rig is a special type of machine for measurement of vehicle suspension through kinematics and compliance testing established by M/ s AB Dynamic, UK. This single axel K&C machine is used to test vehicles up to 4000 kg. The vehicle Chassis is grabbed from underneath and is moved to excite vertical Bounce, Roll and Pitch motions through electro mechanical actuators. The tyres stay in contact with a level "road plane" at two individual wheel pads. These wheel pads can introduce ground-level forces to simulate braking, acceleration, and cornering loads on contact patches. High-level precision digital encoders and load cells measure the tyre loads and wheel orientations every moment.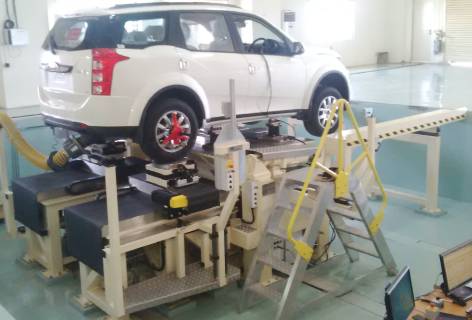 Kinematics and Compliance Rig are several components. This Single Axle Suspension Kinematics and Compliance Deflection Test System shall include the following major subsystems which are as follows:
Platform modules

Load reaction frame and body clamp system

Position and Load Transducers

Data analysis system

Steering wheel robot

Hydraulic System or power transformer
NATRAX has created a state of art facility for Vehicle Dynamics Testing of Vehicles and suspension components. The Vehicle Dynamics Lab is commissioned with an advance version of K&C Test Rig, Steering Test Rig, Damper Test Rig and Elastomer Test Rig for Various Suspension, Steering, Tyre, and Ride & Handling parameters of a vehicle for assessment of ride and handling characteristics. All the testing machines are imported from UK( AB Dynamics ) and US( MTS ).
Expert Engineers

Cost Effective
Modern Workshop

Creative Thinking
Max. Vehicle Weight : 4000 Kg.
Max Axle Weight : 2200 Kg.
Track Range : 1.1 to 2.1 mm.
Steering Wheel Angle : Unlimited (with a steering Robot).

Vartical Bounce : +/- 190 mm
Roli : +/- 10 Deg
Pitch : +/p 8 Deg
Bounce Test.
Roll Test.
Steering Motion.
Longitudinal Force Input.
Aligning Torque Input.
Other Customized Tests.